Reston Lloyd 60500 Orange - Whistling Tea Kettle with Glass Lid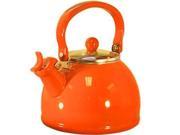 Reston Lloyd 60500 Orange - Whistling Tea Kettle with Glass ...
Buy Now
$36.70
Related Products
$51.84
Oggi's Copper plated stainless steel whistling kettle looks absolutely splendid atop a stove or counter. Sleek design features a flip open spout cover for easy pouring. It's easy to clean with it's large wide opening. Hand wash with warm water and mild, non-abrasive detergent. Wipe dry with a soft cloth. This kettle will look great in any kitchen. Capacity 2.1 liter/75 Oz/2.2 Quart.
$29.95
CONCORD 2.8 Quart Tri-Ply Bottom Tea Kettle Pot Large Whistling Cookware in Red
$32.99
You will love making tea with this extra-large whistling tea kettle. This pot makes enough tea for the whole family. The kettle is made from stainless steel and will look great after years of regular use. This pot has a loud whistle that signals to everyone in the area the liquid is hot. This big 6.3-liter (almost 7 quarts) teakettle is beautifully designed with an infuser basket that provides the option of using tea leaves, tisanes or teabags. The large lid makes it easy for cleaning or filling. The mesh infusing screen is 4" W x 3.5" D. The kettle is 11.5" tall with handle up (body is almost 8 inches tall). It is 9 ½ " across base. Easy one hand pouring.