2 Pcs Reusable Stainless Steel Mesh Ball Strainer Tea Infuser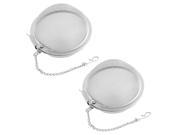 2 Pcs Reusable Stainless Steel Mesh Ball Strainer Tea Infuser Craft Type: General ...
Related Products
$8.45
Zicome Stainless Steel Fine Filtering Loose Leaf Tea Infuser Basket for Cups and Mugs Perfect size for in-cup use for most standard mugs and cups There is a nice metal cover to keep the tea warm as you are brewing it Then you turn the cover over and it becomes a coaster to put the infuser on when you take it out of the cup It is so convenient to use at your desk The top is wide enough to sit in most mugs and teapots A good size for loose leaf tea and fits nicely into a cup Has excellent filtering properties as the holes are very fine You will love that the handles are so sturdy and well made The straight sides make it much easier to clean Make a great gift to a tea lover Warming Tips: Let boiling water settle about 15-20 second before pouring, do not put on flame or heating element; Use baking soda dissolved in warm water to clean tea stain as needed If you are looking for a fine mesh for fine loose teas, that will be a good choice for you
$8.99
Use a mesh strainer to take out seeds, herbs, and pieces of hard food from your broths, sauces, dressings, and more! The holes in the mesh are smaller for better filtration or larger for middle filtration. Each strainer has a hook so you can hang them wherever you like in the kitchen for easy access.
$8.99
The OXO Good Grips 3" Mini Strainer is the immaculate tool for quick and easy straining. Use it to separate the seeds from freshly-squeezed lemon and lime juice, or to strain tea leaves or mulling spices from brewed beverages. It is also great for dusting baked goods with powdered sugar. It features fine mesh for thorough straining and stainless steel double-rod construction for strength and stability. With a small loop at one end, the Mini Strainer balances atop cups and glasses for one-handed use. The Strainer is dishwasher safe.