Tea Forte Skin Smart Honey Yuzu Green Tea - Loose Leaf Tea Canister - 50 Servings Canister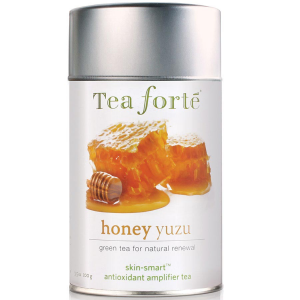 Beautify and renew with loose-leaf green tea blended with citrusy-tart Yuzu, bright orange peel and soothing honey, with just a moderate amount of caffeine -invigorate as you beautify! Tea Forte uses environmentally friendly organic green tea, which is ...
Related Products
$6.75
The Tea Trestle is adept for entertaining. Select five of your esteemed teas to offer guests at your next gathering. One trestle per box.
$9.96
Tea Is Love, Drinks Lovers Tee Women's -Image by Shutterstock Color: White Age: Adult Color Mapping: White Occasion: Everyday
$9.96
Cute Lady Pouring Tea, Cute Tee Women's -Image by Shutterstock Color: White Age: Adult Color Mapping: White Occasion: Everyday