Teaology Infuso Borosilicate Glass Teapot Kettle and 4 Cups Set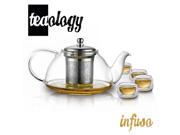 Teaology Infuso Borosilicate Glass Teapot Kettle and 4 Cups Set Type: Tea ...
Buy Now
$34.95
Related Products
$14.99
At Primula, we create items by exploring how people prepare beverages in different cultures and work to understand the experience and ritual behind these preparations. Identifying why people love different and unique beverages is the first step in our creative process, our products are designed to exceed the expectations of our customers. Beauty and elegance combined with the experience of exquisite blooming tea flowers, Primula's Half Moon Teapot will quickly become any tea lover's popular. This set comes complete with everything you need to begin your tea experience. The teapot is crafted from quality temperature safe borosilicate glass and is thoughtfully designed with a wide mouth for easy cleaning and a loose leaf tea infuser to enjoy your prized loose leaf or bagged tea. The healthy green flowering tea is picked fresh and hand tied around dried flowers. Share the beauty of the unfurling tea flower displayed in the Half Moon Teapot with loved ones or steal a quiet moment alone to spoil your palate with this savory tea. At Primula, something extraordinary is brewing.
$40.00
THE GROSCHE MUNICH GLASS TEAPOT BEAUTIFUL, UNIQUE, AND FUNCTIONAL The MUNICH glass teapot is a high-quality all-glass infuser teapot. The MUNICH is an example of elegant design, and great functionality coming together in one gorgeous teapot. The all glad infuser is hand-made, and the glass slits allow for a full and complete infusion of your tea. The entire teapot is made of borosilicate glass which is a high grade thermal glass that can easily withstand boiling water. MAKING GREAT TEA Drop your desired amount of loose leaf tea into the infuser and gently pour boiled water through the infuser into the teapot. The tea will gain color and expand comfortably in the infuser giving you an elegant and high class tea experience. Once your tea has finished infusion, remove the infuser from your tea and replace the lid. Keep your finger on the lid as you serve 4-5 Mugs of amazing tea from your gorgeous glass teapot! This teapot is a must for anyone that loves gourmet loose leaf tea! MATERIALS AND HANDLING The MUNICH is made from heatproof borosilicate glass which is the adept material for handling hot liquids like boiling water as it is very similar to test tube glass. The MUNICH is dishwasher safe, but to avoid being knocked around or getting hit or damaged in the dishwasher, we recommend gently rinsing it out after use with some soapy water to keep it like new. Remember to keep your finger on the lid while pouring as this teapot uses NO silicone or plastics which can change the flavor of your tea.. The premium borosilicate glass is guaranteed against ever becoming cloudy even after years of use! WARRANTY Please contact Seller Rizpresso through Amazon email for ANY questions or concerns. You can also contact the Manufacturer directly or visit their website for replacement parts or any quality or tea making questions.
$70.00
BergHOFF Glass Teapot