Primula PCI-7440 Black Matte Cast Iron Teapot 40 oz.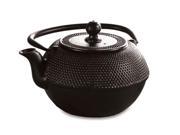 Primula PCI-7440 Black Matte Cast Iron Teapot 40 oz. Type: Tea Kettle Features: Cast iron is superlative for brewing tea and keeping it hot. The cast iron teapot distributes heat more evenly, enhancing the flavors of the tea leaves during the brewing process. The fully enameled interior makes for easy care and cleaning. Each teapot is made in a distinctly unique design. Available in Black Matte Texture, Deep Brown Ribbed Textured, Green Mist Dragon Fly Design. Solid Cast Iron Enamel Coated Inside Includes Loose Tea Infuser and a packet of Loose Tea Not recommended for stovetop use. Capacity: 40 ...
Related Products
$11.99
This attractive cast iron trivet let you serve a pot of hot tea without worrying about damaging your table. It is traditionally designed for holding hot cast iron teapot and has 3 legs underneath for stability. Cast ironware is praised worldwide for their beauty, strength and superb quality. Diameter: 5 1/4".
$24.50
M.V. Trading T7044 Cast Iron Teapot, 25-Ounce, Goldfish with Gold Color
$21.85
HANDCRAFTED MODEL SHIPS HAN#K0267CASTIRON Cast Iron Teapot Trivet 9"