BonJour 40.6-oz. Prosperity Teapot, Noir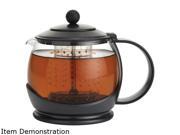 BonJour 40.6-oz. Prosperity Teapot, Noir Type: Tea ...
Related Products
0.00
Crafted for brewing tea in classic infusion-style, Bonjour's beautifully unique and elegant double wall insulated ribbed teapot features a clear borosilicate glass pot with a transparent glass infuser to enhance everyday tea drinking and ensures a chic touch to tableside tea service when entertaining. Intended for loose teas, this insulated teapot will allow you to keep freshly brewed tea piping hot longer. Borosilicate glass resists shock and breakage. 31-ounce/ 930ml capacity.
0.00
The adept fusion of strength and beauty. Elegant hand blown glass design accented by a classic bamboo handle all rests on an elevated bamboo base. Features borosilicate glass body and a removable stainless steel micromesh filter. Included a bamboo tea scoop. Specifications: 42 oz/1.2 liter capacity Dimensions: 8"L x 8"W x 6"H Weight: 3lbs
$49.99
BONJOUR 53840 Glass 4-Cup Teapot Type: Tea Kettle Features: Patented shut-off infuser seals the hydrated tea leaves in a solid chamber, stopping the brewing process and giving you more control over flavor and freshness Stainless steel lid, knob and infuser basket Heat resistant borosilicate glass Capacity: 34 oz. Height: 6.50" Width: 10.00" Depth: 10.75"