BonJour 40.6-oz. Prosperity Teapot, Noir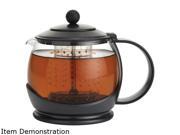 BonJour 40.6-oz. Prosperity Teapot, Noir Type: Tea ...
Related Products
0.00
Enjoy life's simplest pleasures, past and present with these vintage styled goose neck spout teakettles. This kettle features a stainless steel and rubberized handle for safe pouring that keeps your hands away from the heat. Drip free pour spout allows you to conveniently serve tea and hot liquids with ease and efficiency. Secure fitting lid fastens tightly to the kettle to seal in heat. 2 quart capacity.
0.00
With accessories ranging from tea and coffee pots to wine cellars and salt vaults, BonJour gives you the gourmet tools you need to sit back and drink in the moment. This modern brushed stainless steel tea kettle is a revolutionary cordless design with a 360-degree, cool to touch detachable base. The concealed heating element never comes in contact with water, eliminating mineral deposits to ensure better flavor. A powerful 1500-watt heating element boils water quickly with automatic shut off and a built in boil-dry safety mechanism. Premium stainless steel fittings are completed with conveniences such as: exterior water level gauge, tight fitting lid, removable filter and easy cord storage in the base. 1-1/2-liter capacity.
$60.00
The zen teapot is the immaculate fusion of strength and beauty. Elegant hand blown glass design accented by a classic bamboo handle rests on an elevated bamboo base. Featuring a borosilicate glass body and a removable stainless steel micromesh handle, bamboo stand and tea scoop. Borosilicate glass resists shock and breakage. 42-ounce/1.2 liter capacity.