BonJour 40.6-oz. Prosperity Teapot, Noir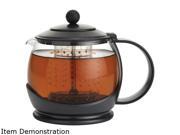 BonJour 40.6-oz. Prosperity Teapot, Noir Type: Tea ...
Related Products
$24.99
Brewing tea Leaves for perfectly flavored beverages is easy with the dashing BonJour tea glass Prosperity teapot. Constructed of borosilicate shatter-resistant glass with an exceptionally durable plastic frame, this 42-Ounce glass teapot features a patented, BPA-free shut-off infuser to allow control over flavor. Whether it's acai blueberry white tea, English breakfast or chai rooibos, simply place your prized loose leaf tea in the infuser and fill the carafe with hot water. Holes in the infuser basket allow tea Leaves to come into contact with the heated water. And after steeping the tea to the desired strength, the filter can be plunged to seal the Leaves inside a solid chamber, stopping the brewing process. Featuring a stay-cool handle and built-in coaster, this convenient glass teapot creates five full Cups of flavorful tea to share with family over breakfast, or with friends in the afternoon. And the teapot is dishwasher safe for convenience. An ideal addition to kitchens of tea enthusiasts, this glass teapot makes a great partner to other tea, Coffee and beverage service items in the BonJour collections. Enjoy a variety of prized tea blends that can be brewed to the excellent, preferred taste in the attractive BonJour tea glass Prosperity teapot.
$49.99
BonJour 40.6-oz. Prosperity Teapot, Noir Type: Tea Kettle
$69.95
BONJOUR 53087 Stainless Steel 2 Quart Teakettle Type: Tea Kettle Features: Combining retro appeal and modern construction, this vintage-styled BonJour Tea Stainless Steel Teakettle provides the best of both worlds. Featuring durable stainless steel craftsmanship, this attractive teakettle is designed with a charming, drip-free gooseneck spout and woodshop-style handle to add a touch of heirloom tradition to tea time. Use this 2-quart teakettle to heat water for fragrant cups of wild orange blossom herbal, Irish breakfast or traditional Darjeeling black tea. The tight-fitting lid seals in heat and features a heat-resistant knob. A rubberized stainless steel handle offers a comfortable grip when pouring hot water into tea cups. Easy to clean, this stainless steel teakettle is suitable for all stovetops, including induction. Besides making a pleasant stovetop addition for tea enthusiasts, this colorful teakettle...