BonJour 27-oz. Teapot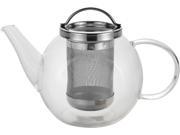 BonJour 27-oz. Teapot Type: Tea Kettle Features: BonJour has been recognized by the Wall Street Journal as one of the most innovative companies in the cookware and housewares industries. BonJour's mission is to provide high-quality, innovative coffee, tea and cuisine related cookware. Each cookware item in the BonJour line is designed, crafted and created in order to enhance the culinary skills of both the amateur and professional chef alike. Brew fragrant and savory teas, steep aromatic herbal blends, and prepare other hot beverages with the beautiful, elegant BonJour Coffee and Tea 27-Ounce Harmony Glass Teapot. The ...
Buy Now
$44.99
Related Products
$69.99
Crafted for brewing tea in classic infusion-style, Bonjour's beautifully unique and elegant double wall insulated ribbed teapot features a clear borosilicate glass pot with a transparent glass infuser to enhance everyday tea drinking and ensures a chic touch to tableside tea service when entertaining. Intended for loose teas, this insulated teapot will allow you to keep freshly brewed tea piping hot longer. Borosilicate glass resists shock and breakage. 31-ounce/ 930ml capacity.
$60.00
The zen teapot is the adept fusion of strength and beauty. Elegant hand blown glass design accented by a classic bamboo handle rests on an elevated bamboo base. Featuring a borosilicate glass body and a removable stainless steel micromesh handle, bamboo stand and tea scoop. Borosilicate glass resists shock and breakage. 42-ounce/1.2 liter capacity.
$49.99
BONJOUR Glass Type: Tea Kettle